Students Media wins Pacemaker, Pinnacles and Best in Show awards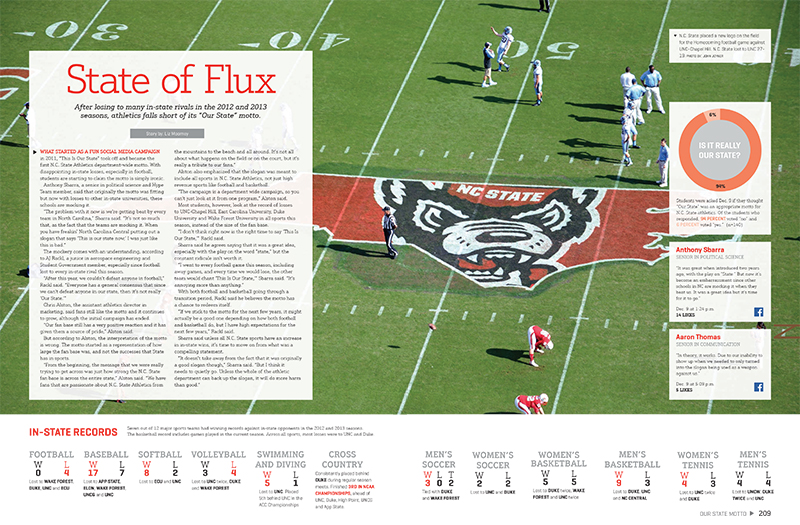 This spread from the 2014 Agromeck won best yearbook sports page/spread in College Media Association's Pinnacle awards. 
Student Media took home 10 individual and organizational awards at the National College Media Convention Oct. 29-Nov. 2 in Philadelphia. Co-hosted by Associated Collegiate Press (ACP) and College Media Association (CMA), the convention brought together 2,000+ attendees to learn about college media and honor student-produced work.
The highest award given out at the convention is ACP's Pacemaker, which honors the best in student yearbooks, magazines, newspapers and online media. The 2013 Agromeck yearbook, edited by Alex Sanchez, was one of five Pacemaker winners. This marks Agromeck's eighth Pacemaker win since 2004.
CMA expanded its Pinnacle awards competition for 2014, offering organizational awards as well as nearly 80 categories of individual awards. WKNC 88.1 FM was awarded third place for Radio Station of the Year. WKNC was a finalist for the same award in 2012.
Agromeck, Technician and WKNC were also finalists for six individual Pinnacle awards.
Technician, first place, best editorial, "Woodson talks Hofmann Forest with Technician"
Agromeck, first place, best yearbook sports page/spread, "State of flux"
Agromeck, second place, best feature photo, "Pack Howl"
Agromeck, second place, best yearbook news page/spread, "Boston Marathon Bombings"
Agromeck, third place, best yearbook entertainment page/spread, "Art 2 Wear"
WKNC, third place, best radio talk/entertainment program, "Selma's Poetry Corner"
Agromeck was also awarded third place Best of Show for yearbooks 300 or more pages, while Technician was seventh place in four-year daily newspapers.