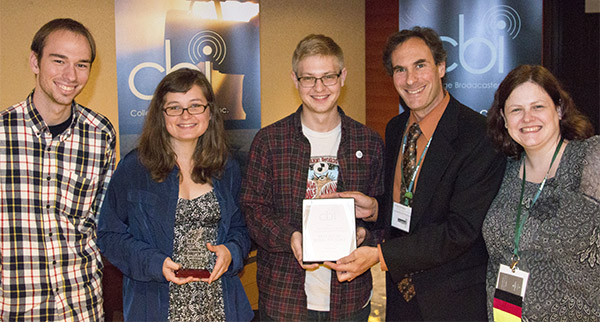 College Broadcasters, Inc. President Greg Weston (second from right) presents WKNC with the award for Best Social Media in CBI's National Student Production Awards.
In just 12 months, WKNC's The Lounge video series has grown from a neat idea to an award-winning production with more than 20,000 YouTube views. WKNC celebrated The Lounge's first birthday Oct. 25 by winning Best Vodcast in College Broadcasters, Inc.'s National Student Production awards. Walt Lilly, John Kovalchik, Matt Brown, Michael D'Argenio and Cameren Dolecheck produced the winning video in December, which featured Richmond, Va. artist Matthew E. White playing "Big Love." A second video of Raleigh's T0W3RS was also a finalist for the award.
"This is just incredible," John Kovalchik, WKNC's general manager and co-creator of The Lounge, said. "When we started this I never imagined it would grow so much in the first year. Winning this award will really establish The Lounge as a serious video project and help attract more artists and attention."
WKNC also took home top honors for Best Social Media. The station has more than 16,000 total followers on Twitter, Facebook, Instagram, YouTube and Tumblr.
Awards in 24 categories were presented by College Broadcasters, Inc. on Oct. 25 at its National Student Electronic Media Convention in Seattle.