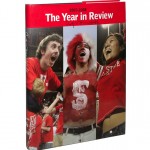 At the national college media convention this fall the Agromeck yearbook received one of the highest honor given to college yearbooks — a Pacemaker.
"Only seven universities had yearbooks that received the Pacemaker," adviser Bradley Wilson said. "This definitely puts the NCSU yearbook in an elite class of collegiate publications. The entire campus community should be proud of the work the staff did to document the history of the University."
The Associated Collegiate Press gave the award to the 2008 Agromeck yearbook edited by Mary Beth Hamrick. Other staff members included: John Cooper Elias, managing editor; Bryant Robbins, design editor; and Stephen Bateman, photo editor.
According to an ACP press release, "Judges looked for a number of factors, including excellent photography, complete coverage, innovative design and exemplary copy. Out of the 54 total entries, 15 college yearbooks were chosen as Pacemaker finalists."
This was the third time the NCSU yearbook has won a Pacemaker. It also won in 2004 and 2007. It was a finalist for the national award in 2006. This year, only 15 schools were finalists making even being a finalist an honor nationally.
"This book, and this staff, are definitely competing at a national level, bringing recognition to the campus and the North Carolina community," Wilson said.
COLLEGE BROADCAST AWARDS
WKNC 88.1fm was a finalist for a National Student Production awards given by the College Broadcasters, Inc. for radio/best newscast for "88.1 Seconds of Technician – April 27, 2009" produced by Saja Hindi and Derek Medlin.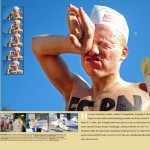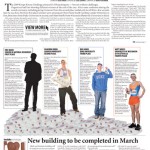 These designs by John Cooper Elias and Bryant Robbins (left) and Ana Andruzzi and Biko Tushinde (right) earned individual awards from the Associated Collegiate Press in the yearbook/magazine page or spread and newspaper page one, respectively.
INDIVIDUAL AWARDS
In addition to the Pacemaker honor for the yearbook, two students came home with top recognition at the national level.
John Cooper Elias and Bryant Robbins won first place in yearbook/magazine page/spread. This 2009 Design of the Year Award was co-sponsored by Adobe Systems. The two received recognition for a spread in the 2009 Agromeck yearbook on the Krispy Kreme Challenge.
Ana Andruzzi and Biko Tushinde received third place in newspaper page one for a front page design in the Technician also on the Krispy Kreme Challenge.
"Think of all the front pages and yearbook spreads published in the world in the last year. We had some of the best," Wilson said. "Clearly this points to our strengths in visual communication as the students try to tell the stories impacting students all over campus."
BEST OF SHOW
In addition to the awards for work submitted to judges before the national conference, NCSU student publications also placed high in the Best of Show honors given by the Associated Collegiate Press on site. With almost 2,277 students in attendance, according to Logan Aimone, executive director of ACP, "By all measures, the convention was a success. One glance through the Twitter feed (#ncmc09) will verify that students learned a lot during the day and had fun during the night."
Windover, the NCSU literary and arts magazine edited by Joe Wright placed second
Agromeck, the NCSU yearbook placed second for the 2009 edition edited by John Cooper Elias
Technician, the NCSU daily newspaper, placed second for an audio podcast produced with WKNC 88.1fm produced by Graham Bruns and Stephen Kinane
Technician, the NCSU daily newspaper placed third for a special new-student supplement edited by John Cooper Elias
NORTH CAROLINA
Overall, North Carolina colleges and universities did well in the competitions, collectively, individually and on-site.
Publication
2009 Magazine Pacemaker, Literary (Four-year), Rebel, East Carolina Univ., Greenville, N.C.; Christopher Schwing, editor; Paul Isom, adviser
Online Pacemaker Finalist, Four-year Daily Newspaper, The Daily Tar Heel, Univ. of North Carolina, Chapel Hill, Chapel Hill, N.C., http://dailytarheel.com, Rachel Will, editor
2008 Yearbook Pacemaker, Agromeck, North Carolina State Univ., Raleigh, N.C.; Mary Beth Hamrick, editor; Bradley Wilson, adviser
Newspaper Pacemaker, Four-year Non-daily Newspaper, Pendulum, Elon Univ., Elon, N.C., Olivia Hubert-Allen, Andie Diemer, editors; Colin Donohue, adviser
Individual
Design of the Year, Newspaper Page One, Third Place, Ana Andruzzi and Biko Tushinde, Technician, North Carolina State Univ., Raleigh, N.C.
Design of the Year, Yearbook/Magazine Page/Spread, First Place, John Cooper Elias and Bryant Robbins, Agromeck, North Carolina State Univ., Raleigh, N.C.
Best of Show
4-year daily broadsheet — 2nd place, The Daily Tar Heel, University of North Carolina, Chapel Hill, Chapel Hill, N.C.; Andrew Dunn, editor; Erica Perel, adviser
4-year daily tabloid — 1st place, The Chronicle, Duke University, Durham, N.C., Will Robinson, editor; Jonathan Angier, adviser
4-year weekly tabloid — 1st place, Pendulum, Elon University, Elon, N.C., Andie Diemer, editor; Colin Donohue, adviser
Special Edition 4-year — 3rd place Technician, North Carolina State University, Raleigh, N.C., John Cooper Elias, editor; Bradley Wilson, adviser
Special Edition 4-year — 4th place,Pendulum, Elon University, Elon, N.C.; Andie Diemer, editor; Colin Donohue, adviser
Yearbook 300+ pages — 2nd place, Agromeck, North Carolina State University, Raleigh, N.C.; John Cooper Elias, editor; Bradley Wilson, adviser
Literary Magazine — 1st place, Rebel, East Carolina University, Greenville, N.C.; Chris Schwing, editor; Paul Isom, adviser
Literary Magazine — 2nd place, Windhover, North Carolina State University, Raleigh, N.C., Joe Wright, editor; Bradley Wilson, adviser
Publication Web site, small school — 3rd place, Pendulum, Elon University, Elon, N.C., Andie Diemer, editor; Colin Donohue, adviser
Audio Podcast — 2nd place, Technician and WKNC, North Carolina State University, Raleigh, N.C., Graham Bruns and Stephen Kinane; Jamie Lynn Gilbert, adviser
Multimedia package — 4th place, The Daily Tar Heel, University of North Carolina, Chapel Hill, Chapel Hill, N.C.; Andrew Dunn, editor; Erica Perel, adviser
Multimedia package — 5th place, Pendulum, Elon University, Elon, N.C.; Andie Diemer, editor; Colin Donohue, adviser