Technician podcast broadcast on WKNC also receives recognition
At the national convention of the Associated Collegiate Press, College Media Advisers and College Broadcasters, Inc. in Kansas City. Oct 29 – Nov. 2, the NCSU Student Media received national recognition and students attending the conference did everything from participate in critiques to teach sessions.
"It is so much fun to go to national conventions with students from top programs all around the nation," media adviser Bradley Wilson said. "Our students stayed up well past midnight critiquing pages and having pages from our publications critiqued. It was a great learning experience."
This year, the NCSU yearbook editor, John Cooper Elias, helped to teach two sessions directly. And media advisers Bradley Wilson and Jamie Lynn Gilbert taught numerous sessions.
"These conventions can be grueling," Wilson said. "They are a lot of work. But visiting with the students and seeing how they apply what they learned is exciting."
The 2007 Agromeck yearbook was one of seven college/university books to receive the national Pacemaker, the highest award given by the Associated Collegiate Press.
The last, and first, time the Agromeck received a Pacemaker was for the 2004 edition, the publication's first national award. The 2006 edition was one of 13 finalists for the national award.
Top staff members for the 2007 edition of the yearbook included:
Brandon Wright, editor
Mary Beth Hamrick, managing editor
Mark Fenimore, design editor
John Cooper Elias, sports editor
Melissa Patzwaldt, Greeks and organizations editor
2008 yearbook named Best in Show
The 2008 edition of the Agromeck yearbook, edited by Mary Beth Hamrick, received the first place Best of Show trophy for books with 300 or fewer pages at the national convention. This is the second consecutive year theAgromeck yearbook has been named Best of Show.
88.1 Seconds of Technician podcast A podcast collaboration between WKNC fm88.1 and the Technician that began broadcasting April 1, 2007 received a second place Best of Show Award, competing against other similar media at the convention. "It's a very positive collaboration between the WKNC radio and the Technician," said WKNC adviser Jamie Lynn Gilbert.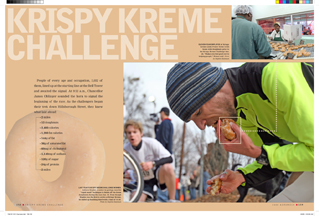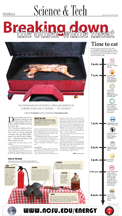 John Cooper Elias received second place in yearbook life student spread (left) and Tyler Dukes and William Alligood received fifth place for newspaper feature page (right) from College Media Advisers in the Best of Collegiate Design competition.
Best of Collegiate Design
The following students were recognized in The Best of Collegiate Design published by the College Media Advisers and released at the fall convention of the College Media Advisers in Kansas City.
Second place, yearbook student life spread • John Cooper Elias [Judges said: FUN! Very interesting subject matter and dominant photo. The fact box is interesting and the donut adds some, but not too much, interest to the muted background.]
Fifth place, feature page • Tyler Dukes and William Alligood [Judges said: "North Carolina State is an excellent source for information regarding barbecue, and this package by Tyler Dukes and William Alligood tells novices how a great cookout comes together. Readers can use this page to assemble their pig-cooking arsenal and to plan a whole day of cooking before the football season opener's 6 p.m. kickoff. The icons are whimsical elements in the timeline, and the styling of the picnic table also shows a great deal of design forethought. Though the typography could be stronger, with fewer contrasts in the headline and in the body copy, the multiple levels of visual storytelling make this a winning design entry.]