WKNC leads sessions at CBI Philadelphia
WKNC students led three educational sessions at College Broadcasters, Inc.'s fifth annual National Student Electronic Media Convention Oct. 20-22, 2016 in Philadelphia. CBI Philadelphia featured more than 100 breakout sessions and brought nearly 500 students, advisers/managers and professionals to Philadelphia for the three-day event.
As part of the educational mission of Student Media and one of the department's annual goals, WKNC publishes the students' summaries so others can learn from the conference.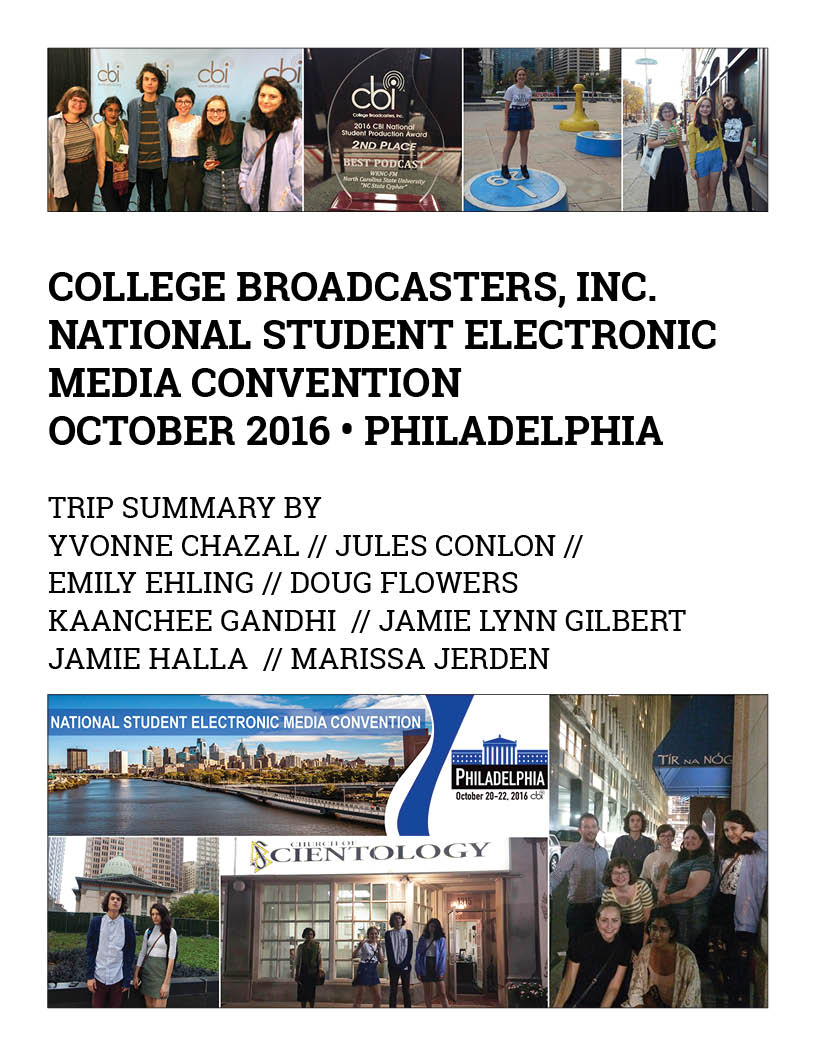 General Manager Emily Ehling received an NC State undergraduate travel award to present the session "Student Perspectives on Training" with WKNC Special Projects Coordinator Yvonne Chazal and Mason Kilpatrick, station manager of KJHK at University of Kansas. The group discussed how to train and retain student staff at student electronic media outlets.
Kaanchee Gandhi, WKNC's media correspondent, also received an NC State undergraduate travel award for "Zines 101." Gandhi and Nathan Hewitt, general manager of WRFL at University of Kentucky, demonstrated how attendees could create their own station zines. Gandhi edited the first two editions of WKNC's zine "Bad Words (and other things you can't say on the radio)."
The group of Ehling, Chazal, Gandhi, Program Director Jamie Halla, Co-Public Affairs Director Marissa Jerden and Indie Rock Music Director Jules Conlon was accompanied by Student Media Associate Director Jamie Lynn Gilbert and IT Manager Doug Flowers. Gilbert and Ehling led the session "Social Media for Student Media" with Dan Kimbrough from Misericordia University and Steven Hames of Berry College. Gilbert also presented "Student Media Assessment Made Easy-ish" with Dave Black, general manager of WSUM at University of Wisconsin-Madison, and facilitated the convention's "swag swap" in which participants bring swag – stickers, pens, T-shirts, koozies, bottle openers, etc. – to swap with their peer media outlets. Flowers participated in the "Radio Engineer's Roundtable" with Woody Kinney of Kinney Broadcasting and Robert Meuser from Engineaux Inc.
During the convention, Jerden took second place in Best Audio Podcast for her piece on the NC State Cypher in CBI's National Student Production Awards. WKNC was won first place in Best Radio Special Event Coverage for a piece on an HB2 protest produced by Mirtha Donastorg and Ian Grice in College Media Association's Pinnacle Awards.