WKNC 88.1 FM and its 2014-2015 General Manager John Kovalchik were among those honored at the inaugural Student Leadership, Engagement and Development Awards Program April 21 in Talley Student Union. The Student L.E.A.D Awards were established to recognize students and organizations for their contributions to student organizations, community service and co-curricular excellence. Awards were presented in service, leadership and engagement categories.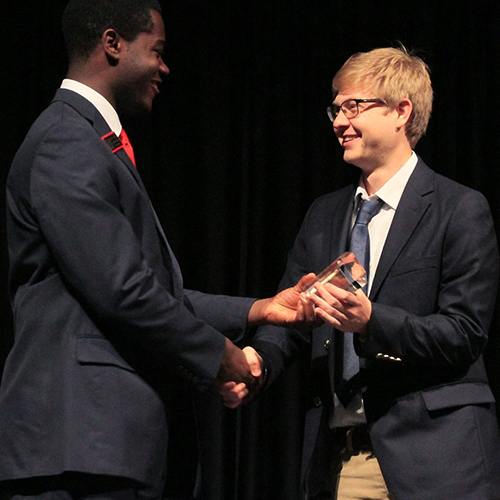 John Kovalchik, a senior in biological sciences, was awarded the Wolfpack Leadership Challenge "Inspire a Shared Vision" award. Named for Jim Kouzes and Barry Posner's The Leadership Challenge book, the award "recognizes an individual, program, or organization with the passion to make a difference. Their ability to look into the future and plan for it in the present makes them stand out above the rest. Imaginative leadership, persuasive guidance, and provocative animation are qualities that help applicants in this category Inspire a Shared Vision for those around them." Kovalchik was nominated by Program Director Walt Lilly for the collaborative and inclusive leadership style he exhibited as WKNC general manager. View John Kovalchik's nomination video.
WKNC 88.1 FM was also honored in the engagement category, the Student Organization Outstanding Achievement Awards, for Outstanding Student Organization On-line Presence. The award was for the "most effective and creative use of their Get Involved webpage, external websites and other social media sites." WKNC has more than 17,000 followers across five social media platforms and is using the Get Involved site to aggregate its social media and connect with students across the University. WKNC was previously honored for Best Social Media Presence by College Broadcasters, Inc. in its 2014 National Student Production Awards.