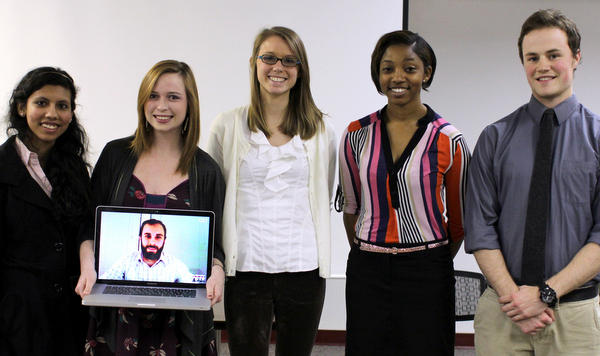 Student Media leader applicants at a candidate forum Feb. 28. (Back) Ajita Banerjea, Bri Aab, Chelsea Brown, Kierra Leggett, Sam DeGrave; (Front) Michael D'Argenio via Skype. Photo by Alex Sanchez

N.C. State's Student Media Board of Directors hired its top leaders for the 2013-2014 academic year at its March 12 regular meeting. Seven students applied for the six leadership positions. Kierra Leggett, a junior in communication-media, was hired for a second term as editor of Nubian Message. In her first term, Leggett celebrated the publication's 20th anniversary with a multicultural art and music festival. Nubian Message published special editions for the African American Symposium and presidential election, along with a four-issue celebration of Black History Month. Leggett's increased focus on social media also resulted in a more than 100 percent increase in traffic to thenubianmessage.com from the fall 2011 to fall 2012 semesters.
Technician news editor Sam DeGrave will assume the role of editor for the daily newspaper. DeGrave, a junior with a double major in sociology and English, language, writing and rhetoric, cited a fourfold increase in the number of news reporters under his leadership as one of his qualifications for the position. A focus on recruitment and retention, more training for copy editors, and the establishment of a beat system for news coverage are some of the ideas DeGrave outlined in his application.
The Student Media Business Office will be managed by Sarah Buddo, a junior in business administration. In response to a newly redesigned technicianonline.com and the March 11 release of the Student Media iPhone and Android app, Buddo plans to hire a digital sales team. "It is my hope that I can hire two new members who can help us expand our clientele from specifically Raleigh into more areas of the Triangle," Buddo wrote in her application.
WKNC program director Bri Aab, a junior studying English, communication-media and philosophy, was hired as general manager. Aab plans to institute a self-evaluation process for the station's paid staff with each pay period. "From a managerial perspective, it gives the subject of said evaluation a chance to either explain issues she has had with her position or announce changes and progressions made," Aab wrote in her application. "It also keeps the subject more attentive to her position and what has been documented as completed."
Chelsea Brown, a junior in graphic design and current managing editor of Agromeck, has been selected as the next yearbook editor. One of the ideas Brown presented in her application was to have all staff members attend regular work nights. "These work-nights will help [the staff] be more productive," Brown wrote. "This work flow will ease deadline stress and improve the quality of the content in the book. It will also give me more one on one time with the staff."
The 2014 Windhover editor will be Ajita Banerjea, a sophomore in computer science. Banerjea currently heads the magazine's poetry and prose submission committee. One of her ideas for the position is to revise the staff application process. "A comprehensive application that asks for details on prior experience, qualifications, and interests is the best method to make decisions on recruitment," Banerjea wrote in her application.

All editors and managers will begin their roles on April 27, the day after the last day of classes for the spring semester.