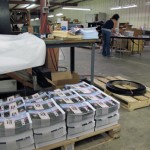 Workers at Stone Commercial Printing & Graphics collate 'The Brick.'
Student leaders will begin distributing The Brick, a collaborative effort to help students learn about traditions at NCSU, to freshmen Sept. 27 in various first-year classes. The project began three years ago as a project in the First Year College.
This year, Student Government, the Alumni Association and Student Media worked together to re-create the project and to distribute copies to all first-year freshmen.