The Associated Collegiate Press announced that a Technician designer and a Student Media photographer were finalists in the ACP 2007 individual competitions. In addition, Windhover, the literary and arts magazine, was named a finalist in the national Pacemaker competition.
Matt Moore, a sophomore in mechanical engineering, and Katie Graf, a senior in communication, were named as finalists for photography and design.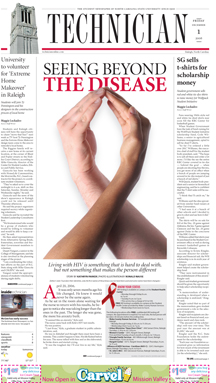 Page 1 design by Katie Graf, Dec. 1, 2007
Tyler Dukes, 2006-2007 editor of the Technician, said, "This recognition is a testament to thee hard work of the staff last year. I'm very proud of the work Katie and Matt did for theTechnician, and I truly feel this is a better publication as a result of their efforts."
Other finalists in the ACP competitions are posted on the ACP Web site including finalists in the story, reporter, cartooning and advertising competitions.
Other North Carolina schools also had students named as finalists, including Duke (The Chronicle, five), University of North Carolina—Chapel Hill (Daily Tar Heel, two), Wake Forest (The Old Gold and Black, two) and East Carolina University (The East Carolinian).
In 2004, three Technician staff members were finalists in design and photography. That year, Thushan Amarasiriwardena place first in infographic, Taylor Templeton placed first in feature photo and Rob Bradley placed third in sports photo. In 2005, two designers were finalists in design. And in 2006 Rob Bradley placed third for a news photo.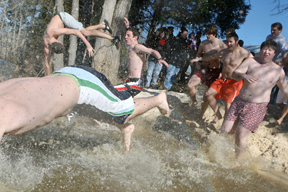 Polar plunge photo by Matt Moore
The Associated Collegiate Press selected the 2007 edition of N.C. State's literary magazine, the Windhover, as one of 15 finalists in the Magazine Pacemaker competition. This edition was edited by Lauren Gould. Minori Sanchiz and Joel Mikkelsen were the literary editor and music editor. The book was designed by Libby Levi, Paul Venuto and Joshua Smith.The Windhoverhas received the award 10 other times.
The Sanskrit from the University of North Carolina at Charlotte was the only other North Carolina publication named as a finalist.
Winners will be announced for the first time at the National College Media Convention Oct. 25-28 in Washington, D.C.