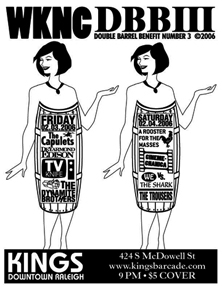 WKNC's third annual Double Barrel Benefit, which took place in February, was named by Independent Weekly as one of its favorite shows of 2006.
In the "Rock and Roll Quarterly" issue, writer Grayson Currin characterized the concert as something "actually causing college students to come downtown."
Organized by WKNC staff, the two night event featured performances by such local artists as The Capulets, A Rooster for the Masses, TV Knife and We Verses the Shark.
Chanon Smith, program director for WKNC and a senior in business management, said he was "proud to be associated with an organization that has the means to put on an event that is recognized for showcasing the best music the Triangle has to offer."
"The bands I saw at the Double Barrel Benefit 3 were totally different genres," said Nicole Griffin, promotions director for WKNC and a junior in communication/media. "They were on opposite ends of the spectrum, but complimented the talent that is played on WKNC."
Details of Double Barrel Benefit 4, which will take place Feb. 2 and 3 at King's Barcade, will be announced in early January.
WKNC is no stranger to accolades from the Independent Weekly. The station was named Best Radio Station earlier this year and Best College Radio in 2004 and 2005 in its annual "Best of the Triangle" reader survey.
WKNC 88.1 FM is a student-run, non-commercial, educational radio station that broadcasts at 25,000 watts directly from the North Carolina State University campus. WKNC prides itself in offering forms of music that cannot be heard anywhere else on the dial. Primary formats are alternative, loud rock, hip-hop and electronica. Specialty shows include local music, heavy metal, punk, Latin music, Southeast Asian music and reggae.