WKNC to air election special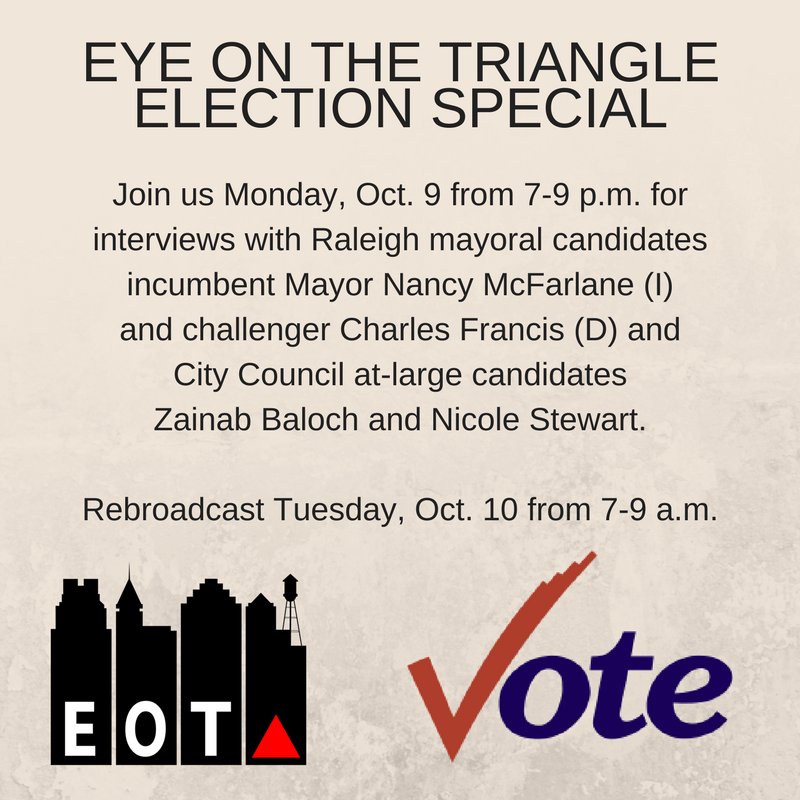 WKNC 88.1 FM HD-1 will air a special two-hour election edition of "Eye on the Triangle" on Monday, Oct. 9 before the Raleigh Municipal Elections on Oct. 10.
The program, which begins at 7 p.m., will feature interviews with incumbent Mayor Nancy McFarlane, an Independent, and her Democratic challenger Charles Francis. Republican candidate Paul Fitts did not respond to multiple interview requests.
The second hour of the special will share interviews with Zainab Baloch and Nicole Stewart, candidates for the at-large seat on the Raleigh City Council. An interview with candidate Russ Stephenson aired on Sept. 25, with audio available at wknc-eot.tumblr.com.
The entire program will be rebroadcast on Tuesday, Oct. 10 from 7-9 a.m.
Started in 2009, "Eye on the Triangle" has aired more than 200 episodes covering news affecting the Raleigh, Durham and Chapel Hill communities. The election special can be heard on the air at 88.1 FM HD-1 and online through wknc.org/listen or the NC State Student Media app for iPhone and Android.