By Chris Vitiello, NCSU Libraries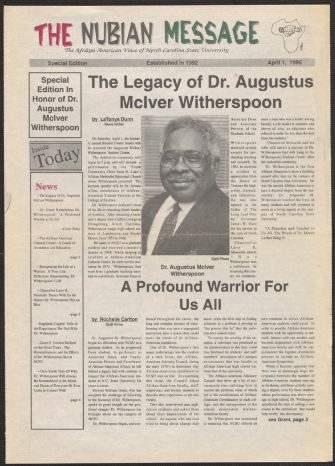 The NCSU Libraries has released a fully searchable digital archive of the Nubian Message, NC State's voice of the black student experience. Through a partnership with NC State Student Media, back issues from the newspaper's initial issue in 1992 through 2005 are online through the Libraries' Rare and Unique Digital Collections.
These collections represent campus and student life and include the Technician newspaper and the Agromeck yearbook (both digitized through 2005) as well as university history images. The Nubian Message addition consists of over 200 issues of the newspaper, comprising over 1,700 pages of content held in the Special Collections Research Center.
The Nubian Message began publication in 1992 in response to student protests alleging racial bias in reporting, as well as racially inflammatory commentary, by the Technician. In an early editorial, Tony Williamson, the paper's first editor-in-chief, stated his intention to "totally, truthfully, and faithfully cover every aspect of African American life at NCSU." The paper quickly grew to represent the experience and concerns of students of color at the university.
"We were enormously gratified when the Libraries approached us about digitizing the Nubian Message," says Patrick C. Neal, Director of Student Media Advising. "As future historians and others look back at this era at NC State, especially with regard to the black student experience, I would anticipate these back issues will be an enormously valuable resource."
"While we have bound copies of past issues here in our office, we have not had the expertise and resources to put a digital archive together," Neal continues. "We were overjoyed to be able to leave that project in the hands of professionals who we knew would do it right."
Users will be able to search the full text of Nubian Message back issues with "search inside" and "hit highlighting" functionality—features forthcoming in the Agromeck and Technician digital archives. The release of the Nubian Message digital archive coincides with the NCSU Libraries partnership with the African American Cultural Center to record short video interviews with students and alumni at the AACC's annual Harambee event, celebrating and welcoming new students into NC State's black community, through theWolf Tales mobile oral history program.