WKNC students led three educational sessions at College Broadcasters, Inc.'s fourth annual National Student Electronic Media Convention Oct. 22-24, 2015 in Minneapolis. CBI Minneapolis featured more than 100 breakout sessions and brought 400 students, advisers/managers and professionals to Minneapolis for the three-day event.
As part of the educational mission of Student Media, WKNC publishes the students' summaries so others can learn from the conference. All WKNC presentation material is also available on the convention website.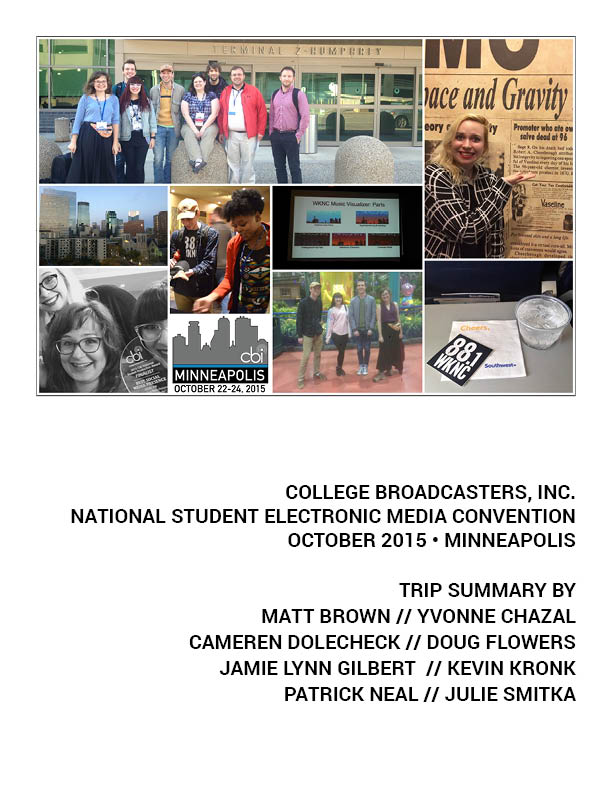 General Manager Matt Brown, who attended CBI's 2014 convention in Seattle, received an NC State undergraduate travel award to present the session "Planning and Producing Live Multimedia Music Performances." During the 50-minute presentation, Brown and John Dillingham, station manager of KJHK at University of Kansas, outlined the processes behind their award-winning video series WKNC's The Lounge and Live @ KJHK.
Cameren Dolecheck, a WKNC DJ and former Afterhours electronic music director, also received an NC State undergraduate travel award for "Radio: Think BIG with Visualization." Dolecheck led a team of WKNC staff earlier this year in creating a 21.3 x 7 foot music visualizer for display in the Hunt Library. In his session, Dolecheck spoke on the history of music visualization and generative art and provided resources for media outlets to begin their own music visualization pieces.
WKNC Program Director Yvonne Chazal also led a concert planning roundtable with Nathan Hewitt, general manager of WRFL at University of Kentucky that generated conversation on concert funding, booking and promotion.
The group of Brown, Dolecheck, Chazal, Promotions Director Julie Smitka and Assistant Indie Rock Music Director Kevin Kronk was accompanied by Student Media Associate Director Jamie Lynn Gilbert, Director Patrick Neal and IT Manager Doug Flowers. Gilbert and Neal led the session "Student Media Assessment Made Easy-ish" with Dave Black, general manager of WSUM at University of Wisconsin-Madison. Gilbert also facilitated the convention's "swag swap" in which participants bring swag – stickers, pens, T-shirts, koozies, bottle openers, etc. – to swap with their peer media outlets.
During the convention, WKNC took top honors for Best Social Media Presence for the second year in a row in CBI's National Student Production Awards. WKNC was also a finalist for Best Audio Newscast for the January 12, 2015 edition "88.1 Second of Technician" produced by Colin Greatwood, Makenzie Bryson and Chad Yeager.