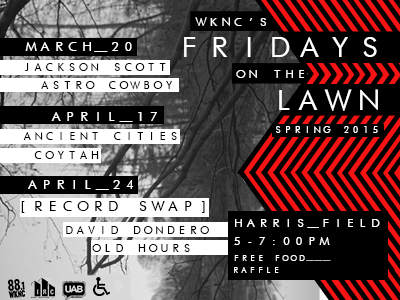 WKNC 88.1 FM will host three Fridays on the Lawn concerts during the spring semester, bringing bands from across North Carolina to the N.C. State campus.
The series will kick off Friday, March 20 with Asheville psychedelic rock outfit Jackson Scott and Wilmington rock band Astro Cowboy. Charlotte's Ancient Cities, a blues/rock band in the vein of The Black Keys, and Coytah, an alternative rock band from Raleigh, will perform on Friday, April 17. Singer/songwriter David Dondero, who currently resides in Austin, Texas, joins Durham indie/folk band Old Hours for the final event on Friday, April 24. The April 24 event will also feature a record swap.
"Fridays on the Lawn is a great opportunity for the public to experience great local music for free," said Clint Bowman, WKNC's local music director. "By booking artists that are primarily from the state of North Carolina, audiences can become educated on the music that is being made right in their very own state."
WKNC's Fridays on the Lawn take place on Harris Field, on the corner of Cates Ave. and Dan Allen Dr. on the N.C. State campus. The rain location for each date is Witherspoon Student Center's Washington Sankofa Room. Music begins at 5 p.m. the event is free and open to the public. Fridays on the Lawn are supported by the N.C. State Union Activities Board and Inter-Residence Council.