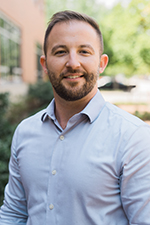 Student Media Technology Support Analyst Doug Flowers was among several recipients of the spring 2014 "Pride of the Wolfpack" award.
Flowers was nominated by Leslie Dare, technology services director for the Division of Academic and Student Affairs.
According to Dare, Flowers was recognized for his outstanding work in developing TrackIT, the asset management system for DASA Technology Services.
"[Doug] has managed both the strategic and tactical aspects of the project, and continually researches new functionality that will serve our team," said Dare. "This project is an excellent example of Doug's contributions to the critical functions of the tech operation that supports Student Media and all the other many units in the Division of Academic & Student Affairs."
The Pride of the Wolfpack is a "'spot award' designed to recognize individual employees for a special or unique contribution to their college or unit or to the campus community."