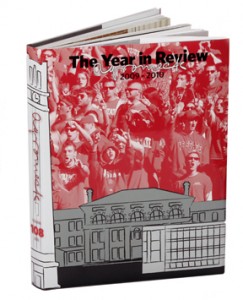 The Associated Collegiate Press named the 2010 Agromeck yearbook edited by Bryant Robbins and Michele Chandler a finalist for its top award — the Pacemaker.
"It's an honor to be named a finalist. It's nice to see that the recognition for all the hard work that we put into the book," Robbins said. "It's nice to be recognized at a national level, but it's also nice to know we're doing our job right. It's also helpful to see the campus recognize the quality of the book and how we work hard to document the history of the University."
The NCSU yearbook was one of 11 finalists for the national award it also received in 2009, 2008, 2007 and 2004 and was a finalist in 2006.
The Pacemaker winners will be announced for the first time at the fall ACP/CMA National College Media Convention in Orlando, Oct. 26-31.
The 2010 edition of the book is also a Crown award winner.