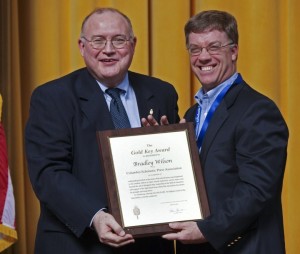 CSPA director Ed Sullivan with Wilson
Eight media advisers from across the nation received the highest award from the Columbia Scholastic Press Association this March. Among them was Bradley Wilson, media adviser at North Carolina State University.
With the Gold Key, CSPA recognizes educators and members of the professional press primarily for their support for excellence in teaching journalism and in advising student publications.
In her letter of recommendation, Sherry O'Neal, director of internal communication for the North Carolina Community College System, said, "Of course, the students admire and respect Bradley. He has been a mentor to them, many of whom go on to work in journalism after graduation. Bradley is the go-to person on campus for journalism."
O'Neal, former director of communication for the NCSU College of Design, added, "The awards that the Technician, the Agromeck and Windhoverhave earned, as well as individual student journalists and designers becoming actively involved in professional organizations and winning awards, have been unmatched in my experience at N.C. State."
Phil Zachary, president and chief operating officer for Curtis Media Group, said, "He's an impressive educator and a passionate advocate of student journalism.  I'd estimate fully a third of the time spent in our monthly meetings was devoted to maintaining journalistic ethics and disciplines.  In fact, I recall a sidebar conversation with another board member (from the newspaper side) who, like me, lamented the fact more aspiring journalists were not being groomed to the standards of Bradley's student charges.  From my perspective, they're a cut above the norm yet far more street-wise and grounded than graduates we interview from the prestigious j-schools."
Notable other recipients of the Gold Key include Walter Cronkite of CBS News and Dr. Arthur S. Flemming, former secretary of Health, Education and Welfare along with numerous college media advisers and professional journalists. Only 12 other individuals from North Carolina have received the award since 1929.
"In recognition of outstanding devotion to the cause of the school press, encouragement to the student editors in their several endeavors, service above and beyond the call of delegated duty, leadership in the field of education, and support of the high ideals from which the Association has drawn its strength and inspiration" are the words on the certificate that accompanies the Gold Key.
A total of 831 Gold Keys have been awarded since the CSPA's founding director, Joseph M. Murphy, started the tradition in 1929.
Other recipients this March were:
Linda Barrington—Mount Mary College, Milwaukee, Wisc.
Linda Drake—Chase County High School, Cottonwood Falls, Kan.
Patricia Hinman—Robinson Secondary School, Fairfax, Va.
Wanda Pletcher—Altoona Area Junior High School, Altoona, Penn.
Charles Stevens—Lee-Davis High School, Mechanicsville, Va.
C. Dow Tate—Shawnee Mission East High School, Prairie Village, Kan.
Becky Tate—Shawnee Mission North High School, Overland Park, Kan.