N.C. State's daily student newspaper, the Technician, received a Silver Crown, the second highest national award, from the Columbia Scholastic Press Association at the CSPA convention March 17. "This award indicates that your publication ranks among the best in student journalism," said Edmund Sullivan, executive director of CSPA.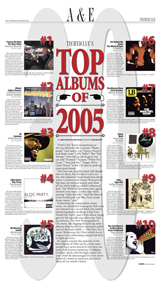 Feb. 8, 2006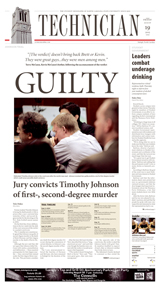 Aug. 19, 2005
Rebecca Heslin edited the newspaper. She is now a associate editor at DC Magazine magazine in Washingon, D.C.
Eleven college newspapers were nominated for Crown awards. Three received Gold Crown awards. Eight received Silver Crown awards. The Technician was the only North Carolina collegiate publication of any kind to be named a finalist. It received a Silver Crown for both the fall 2005 and spring 2006 editions.
This is only the second time an NCSU publication has received one of the top national awards. The 2004 Agromeck yearbook received a Silver Crown for the 2004 edition. The Gold Crown award, given since 1982, represents the top 2 percent of media in the nation. A total of 1,860 newspapers, magazines and yearbooks published during the 2005-2006 academic year were eligible for judging in the 2007 Crown Awards Program.
The Crown Awards are considered at Columbia by panels of invited judges, working in small groups to review each publication. During Crown consideration, publications are judged on their excellence as shown by their design, photography, concept, coverage and writing. Crown Awards summarize overall excellence in the entire publication and function as a "top-down" view of general excellence.
"We've taken great strides in the past few years to make the paper more readable and to make it appeal to a wider audience," said Bradley Wilson, adviser to the newspaper. "Localization of national news, inclusion of feature stories on a regular basis, alternative copy and a modern look help make the paper serve the campus better. I'm glad the judges recognize the hard work the students have been doing."
STAFF MEMBERS
Editor

Rebecca Heslin

Fall Managing Editor

Patrick Clarke

Spring Managing Editor

Jake Seaton

News Editor

Tyler Dukes

Viewpoint Fall Editor

Jason Eder

Fall Sports Editor

Ian Jester

Spring Sports Editor

Tanner Kroeger

Features Editor

Greg Behr

Fall Photography Editor

Jeff Reeves

Spring Photography Editor

Nick Pironio

Design Editors

Win Bassett and Katie Graf

Business Manager

Robbie Williams

Classifieds Manager

Meghann Dominie

Deputy News Editors

Haley Huie and Kasey Butler

Deputy Sports Editors

Joe Overby, Josh Harrell and Clark Leonard

Deputy Features Editors

Kathleen Gordon

Science & Technology Editor Cynthia Marvin
| | |
| --- | --- |
| | |
| This spread from the 2006 yearbook received a Third Place Certificate in Yearbook Feature Presentation. AUSTIN DOWD and CURTISS MARTIN. | This spread from the 2006 yearbook received a Second Place Certificate in Organization or Greeks Spread for Yearbook. THOMAS COX and WILLIAM ALLIGOOD. Alligood also received a Third Place Certificate in Yearbook Sports Action Photograph for the dominant rugby photo on this spread. |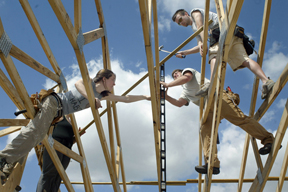 This photo by DANIEL JOE received a Certificate of Merit in Yearbook Feature Photo.
In addition, eight members of the 2006 Agromeck staff received Gold Circle awards.
Nathan Bullen and William Alligood — First Place Certificate in Caption Writing for Yearbooks
Thomas Cox and William Alligood — Second Place Certificate in Organization or Greek Spreads for Yearbook
Austin Dowd and Curtiss Martin — Third Place Certificate in Yearbook Feature Presentation
William Alligood — Third Place Certificate in Yearbook Sports Action Photograph
Nick Pironio and Thomas Cox — Certificate of Merit in Yearbook Sports Spread
Cynthia Rouf — Certificate of Merit in Organization or Greek Writing for Yearbook
Daniel Joe — Certificate of Merit in Yearbook Feature Photo