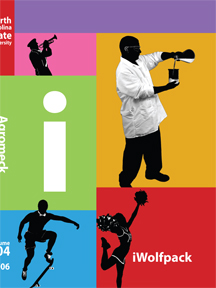 The North Carolina State University yearbook staff has been recognized by Taylor Publishing with an Award of Excellence honoring its yearbook design and coverage. The NCSU yearbook, the Agromeck, is featured in the 2007 Yearbook Yearbook. The yearbook has also been nominated for a national Pacemaker Award from the Associated Collegiate Press, one of the top two national awards for student media.
Only 13 schools were nominated nationwide for the Pacemaker including perennial winners, the Royal Purple from Kansas State University, the Arbutus from Indiana University and the Tower from Northwest Missouri State University. The Agromeck was first nominated, and received, a Pacemaker for the 2004 edition, the publication's first national award. In that year, 14 schools were nominated and five received a Pacemaker.
"This puts the Agromeck yearbook in an elite class of yearbooks nationwide," said adviser Bradley Wilson. "It's nice to know we're considered to be among the best. It also shows our student body that it's a quality product worth collecting."
Taylor Publishing publishes the Yearbook Yearbook to recognize yearbooks for "outstanding achievement" in cover design, theme development and layout design.
"The judges come from different parts of the nation and represent varied school sizes. Their job is not an easy one," editor Marilyn Scoggins said. "The competition gets tougher each year because staffs are doing an excellent job of creating great, student-oriented yearbooks."
Marketing Manager Mike Taylor said only a small percentage of yearbook staffs nationwide get the recognition.
Top staff members for the 2006 edition of the yearbook included:
Josh Bassett, editor
Austin Dowd, managing editor
Cynthia Rouf, organizations editor
Other senior staff members included: William Alligood, Claire Moseley, Mary Beth Harmick, Melissa Patzwaldt, Ronald Nause, Dan Ternes, Nathan Bullen, Laura Andrews, John Mickey, Danny Boemermann, Pete Ellis, Chris Owens, Nick Pironio, Daniel Joe, Jeff Reeves, Brandon Wright and Britt Hayes.